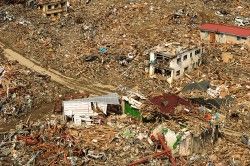 Now that nearly a month has gone by since the horrific tsunami in Japan on March 11th, it is starting to become clear just how much economic damage has been done. The truth is that the Japanese economy is in much bigger trouble than most people think. This is almost certainly going to be the most expensive disaster in Japanese history. The tsunami that struck Japan on March 11th swept up to 6 miles inland, destroying virtually everything in the way. Thousands upon thousands of Japanese were killed and entire cities were wiped off the map. Yes, Japan is a resilient nation, but exactly how does a nation that is already drowning in debt replace dozens of cities and towns that are suddenly gone? The truth is that thousands of square miles have been more completely destroyed than if they had been bombed by a foreign military force. The loss of homes, cars, businesses and personal wealth is almost unimaginable. It is going to take many years to rebuild the roads, bridges, rail systems, ports, power lines and water systems that were lost. Nobody is quite sure when the rolling blackouts are going to end, and nobody is quite sure when all of the damaged manufacturing facilities are going to be fully brought back online.
On top of everything else, the nuclear crisis at Fukushima never seems to end. In fact, it seems to get worse with each passing day.
According to the Los Angeles Times
, it has now been announced that seawater off the coast of Japan near the Fukushima facility was recently found to contain 7.5 million times the legal limit of radioactive iodine....
The operator of Japan's stricken Fukushima nuclear plant said Tuesday that it had found radioactive iodine at 7.5 million times the legal limit in a seawater sample taken near the facility, and government officials imposed a new health limit for radioactivity in fish.