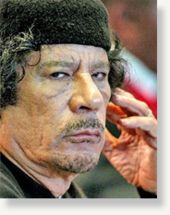 London - Oil prices dropped below 100 dollars on rumors that Muammar al-Gaddafi, who is desperately clinging to his role as leader of Libya, was shot by a soldier in Tripoli.
According to the
Daily Mail
, oil had hit a high of 120 dollars a barrel on Thursday afternoon, but settled at 97 dollars on the rumour and on Saudi Arabia's claim that it can counter any supply disruptions from Libya.
A senior U.S. official however said that the U.S. has no reason to believe that Gaddafi was dead or had been fired upon.