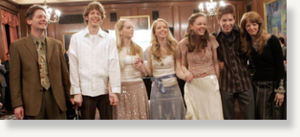 Salt Lake City - The patriarch of a prominent family musical group has been charged with sexually abusing his three daughters in a stunning revelation that was followed four days later by the father careening his Porsche off a 300-foot enbankment into an icy stream.
Keith Brown, whose daughters are part of The 5 Browns, survived the crash and faces one first-degree felony count of sodomy on a child and two second-degree felony counts of sexual abuse of a child, according to Fourth District Court records obtained Wednesday.
The 5 Browns are a classical piano group from Utah that features the three sisters and their two brothers. The Juilliard-trained siblings have achieved critical and popular acclaim while appearing on "Oprah," "The View" and other shows, and being profiled by "60 Minutes."