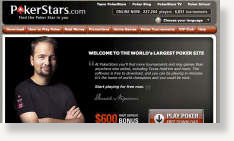 Federal authorities busted the three largest online poker websites in the United States on Friday with charges of bank fraud and illegal gambling against 11 people, accusing them of manipulating banks to process billions of dollars in illegal revenue.
Prosecutors in Manhattan said they've issued restraining orders against more than 75 bank accounts in 14 countries used by the poker companies, interrupting the illegal flow of billions of dollars.
U.S. Attorney Preet Bharara said the defendants "concocted an elaborate criminal fraud scheme, alternately tricking some U.S. banks and effectively bribing others to assure the continued flow of billions in illegal gambling profits."
The companies, all based overseas, were identified as PokerStars, Full Tilt Poker and Absolute Poker. The indictment sought $3-billion in money laundering penalties and forfeiture from the defendants.
The indictment said the companies ran afoul of the law after the U.S. in October 2006 enacted the Unlawful Internet Gambling Enforcement Act, which makes it a crime for gambling businesses to knowingly accept most forms of payment in connection with the participation of another person in unlawful Internet gambling.