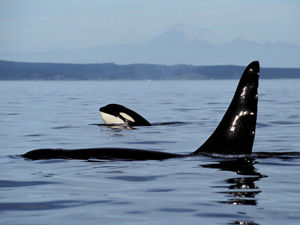 Wildlife protection agency challenged for not doing its job.
San Francisco, California - A coalition of conservation and American Indian groups today sued the National Marine Fisheries Service (NMFS) for failing to protect thousands of whales, dolphins, porpoises, seals, and sea lions from U.S. Navy warfare training exercises along the coasts of California, Oregon, and Washington.
Earthjustice, representing InterTribal Sinkyone Wilderness Council, Center for Biological Diversity, Friends of the Earth, Friends of the San Juans, Natural Resources Defense Council (NRDC), and People For Puget Sound, today
filed a lawsuit
in U.S. District Court for the District of Northern California challenging NMFS's approval of the Navy's training activities in its Northwest Training Range Complex. The lawsuit calls on NMFS to mitigate anticipated harm to marine mammals and biologically critical areas within the training range that stretches from Northern California to the Canadian border.
"These training exercises will harm dozens of protected species of marine mammals - Southern Resident killer whales, blue whales, humpback whales, dolphins, and porpoises - through the use of high-intensity mid-frequency sonar," said Steve Mashuda, an Earthjustice attorney representing the groups. "The Fisheries Service fell down on the job and failed to require the Navy to take reasonable and effective actions to protect them."
The Navy uses a vast area of the West Coast for training activities including anti-submarine warfare exercises involving tracking aircraft and sonar; surface-to-air gunnery and missile exercises; air-to-surface bombing exercises; sink exercises; and extensive testing for several new weapons systems.