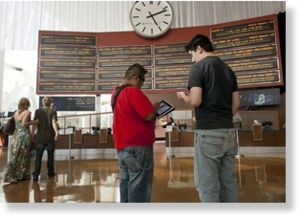 It seems like such a quaint notion: Folks would go to the movie theatre, buy their tickets at the box office, then sit down, shut up and pay attention for two hours to what was on the screen.
Now, the piercing glow of cellphones lights up the darkness like so many pesky fireflies, and people talk to each other in a packed auditorium as if they were sitting in the privacy of their own living rooms.
The Alamo Drafthouse Cinema in Austin, Texas, did something about this trend by kicking out a patron who refused to adhere to the theatre's rule against talking or texting, then turned the ranting, profane voice message she left into a hilarious public service announcement. It's gotten over 1.75 million hits on YouTube in just a couple of weeks.
But what happened to our attention spans? Why must we talk, text and tweet in the middle of a movie? And what - if anything - can theatres do to stop this erosion of cinema civility?
Matt Atchity, editor-in-chief of the Rotten Tomatoes film review website, crafted "10 Commandments for Movie Audiences" including "Thou shalt not text." But the ubiquity of cellphones makes these sensible suggestions hard to enforce.