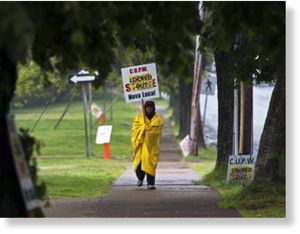 Mail service should resume within days after weary members of the House of Commons ended a 58-hour marathon filibuster by passing back-to-work legislation for locked-out Canada Post employees.
The Conservative benches erupted in cheers and back-slapping as the final vote was held Saturday night, signalling that the official Opposition New Democrats had folded their tent on a decision the party's deputy leader called "pre-ordained."
Prime Minister Stephen Harper emerged from the chamber with Labour Minister Lisa Raitt to say his government had prevailed in the court of public opinion.
"We know what side the public was on and I think today members of Parliament on the other side finally started to get that message," said Harper.
Calling the three days of round-the-clock debate in Parliament "a completely unnecessary delay," Harper said he was "nevertheless pleased that soon Canadians will again have access to their postal service, particularly small businesses and charities."
A special sitting of the Conservative-dominated Senate is expected to give the bill Royal Assent by late Sunday afternoon. It was not immediately clear how soon the mail would start moving as Canada Post would not comment because the bill was still before Parliament.