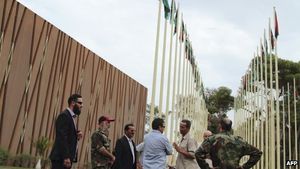 Dozens of gunmen have occupied Libya's parliament to register their anger over the formation of the new government.
The militiamen are demanding some of the ministers be removed because they have links to the late Muammar Gaddafi's regime.
At least a dozen trucks mounted with anti-aircraft guns are lining the main road to the parliament.
Libya held a peaceful election in July and finally agreed the composition of a government on Wednesday.
Prime Minister Ali Zidan gained the support of the National Congress for his choice of ministers.
His list included liberal figures and Islamists in an attempt to forge a coalition acceptable to all parties.