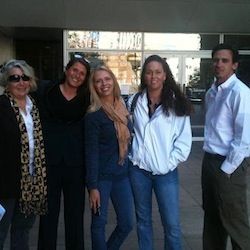 Three BP oil disaster survivors and community advocates were forcibly removed from the fairness hearing on the BP class-action settlement yesterday, moments before the federal court heard objections to how that settlement would compensate people made sick by the disaster. The fairness hearing allowed U.S. District Judge Carl Barbier to hear arguments from those who negotiated the deal, as well as those with objections to the class action, before the settlement is accepted or rejected.
Louisiana residents
Cherri Foytlin
,
Kindra Arnesen
, and Michelle Chauncey were asked by Judge Barbier to leave for allegedly "live streaming audio" of the hearings, and were escorted out by U.S. Marshals. The women were quietly listening to the proceedings and say they had no intention of interrupting, and don't even know how to "live stream". They believe they were unjustly targeted because they have been speaking out for their families and their communities.
"It's ironic - this is exactly the place where objections are meant to be heard and instead, we have four Louisiana residents forcibly removed because the court felt threatened that they might speak out," says Bryan Parras of Houston, Texas - an environmental justice expert and Managing Advisor with the
Gulf Coast Fund for Community Renewal and Ecological Health
.