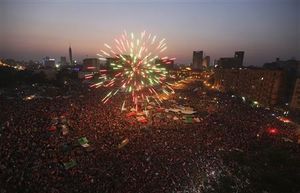 Islamist Mohamed Morsy was declared Egypt's first freely elected president on Sunday, sparking joy among his Muslim Brotherhood supporters on the streets who vowed to continue a struggle to take power from the generals who retain ultimate control.
Morsy defeated former general Ahmed Shafik in a run-off last weekend by a convincing 3.5 percentage points, or nearly 900,000 votes, taking 51.7 percent of the total, officials said, ending a week of disputes over the count which left nerves frayed.
He succeeds Hosni Mubarak, who was overthrown 16 months ago after a popular uprising. The military council which has ruled the biggest Arab nation since then has this month curbed the powers of the presidency, meaning the head of state will have to work closely with the army on a planned democratic constitution.
Brotherhood officials, speaking as supporters turned Cairo's Tahrir Square into a roaring sea of flags and chants of "Allahu akbar!" (God is greatest), said they would press on with protest vigils to demand that the ruling military council cancel this month's dissolution of the Islamist-led parliament and a decree which gave the generals powers that will restrict the president.