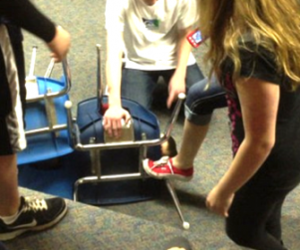 A 13-year-old boy at Kopachuk Middle School in Gig Harbor, Washington was allegedly bullied by his teacher John Rosi and eighth-grade classmates (video below).
The students swung the boy by his arms and legs, wrote on his feet, stuck a traffic cone on his head, gagged him with a sock and taunted him, reports the
Daily Mail.
The boy's parents became aware of the bullying, after their son refused to go to school and became withdrawn and suicidal.
They complained to the school administrators and demanded to see the video footage from student cell phones.
The boy's father Randall Kinney told King5.com: "I was shocked. My wife broke down crying. It was tough to see. Rosi is completely ignorant of the fact that he's got a whole classroom hazing one kid. They classified it as roughhousing.
But it's not 14 kids wrestling each other. It's a dozen kids using my son to demonstrate their dominance over him."