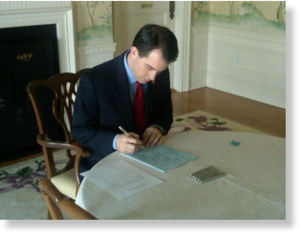 Prison inmates have replaced union workers in Racine County, Wisconsin, thanks to the changes to the states collective bargaining laws that went into effect at the end of June.
The
Journal Times
reported
prison inmates will now be able to do tasks such as landscaping, painting, and shoveling sidewalks in the winter that were previously performed by unionized employees.
Inmates are not required to do any work for the county, but can receive time off their sentence if they do. Racine County Executive Jim Ladwig said the use of prison labor would not result in any public works staff reductions.