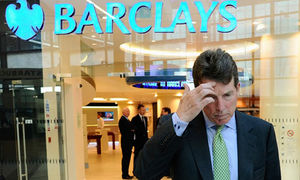 The head of the
Institute of Directors
(IoD) led the mounting clamour on Friday from the City, business leaders and politicians for a cull at the top of Britain's banks. In an unusually strong condemnation of the culture of banking, Simon Walker, director general of the IoD, said it was "high time" for a clearout of top bankers after a wave of mis-selling scandals and market manipulation.
His remarks came on a day when pressure was mounting on
Bob Diamond
to step down as chief executive of
Barclays
in the wake of the record-breaking £290m fine for
the bank's attempt to fix a crucial interest rate
and as the Financial Services Authority ordered Barclays and three other high street banks to compensate up to 28,000 small businesses that were mis-sold products designed to minimise their risk against interest rates going up.