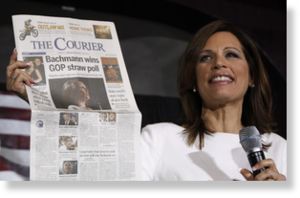 According to an article published by the
Daily Beast
Sunday, GOP presidential candidates Michele Bachmann and Rick Perry have "deep ties" to a "fringe fundamentalist movement" known as Dominionism.
Dominionism is defined as the tendency of politically active conservative Christians to try to control government. Writer Michelle Goldberg simplifies the definition down to: "a movement ... which says Christians should rule the world."
Goldberg is the author of
Kingdom Coming: The Rise of Christian Nationalism
and she makes her case for applying the controversial term to both candidates by listing the ways Dominionism has supposedly influenced them.