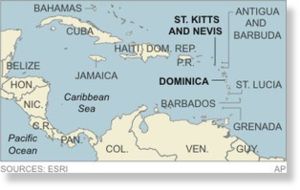 Kingston, Jamaica - Hadi Mezawi has never set foot on the Caribbean island of Dominica, has never seen its rainforests or black-sand beaches. But he's one of its newest citizens.
Without leaving his home in the United Arab Emirates, the Palestinian man recently received a brand new Dominican passport after sending a roughly $100,000 contribution to the tropical nation half a world away.
"At the start I was a little worried that it might be a fraud, but the process turned out to be quite smooth and simple. Now, I am a Dominican," said Mezawi, who like many Palestinians had not been recognized as a citizen of any country. That passport will help with travel for his job with a Brazilian food processing company, he said by telephone from Dubai.
Turmoil in the Middle East and North Africa has led to a surge of interest in programs that let investors buy citizenship or residence in countries around the world in return for a healthy contribution or investment. Most are seeking a second passport for hassle-free travel or a ready escape hatch in case things get worse at home.
Nowhere is it easier or faster than in the minuscule Eastern Caribbean nations of Dominica and St. Kitts & Nevis.