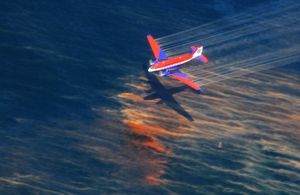 It's been a brutal few weeks for BP and the other companies involved in last year's Gulf oil spill. BP in particular has been throttled by a barrage of bad news as the date looms for the massive multi-district liability trial to begin in New Orleans.
A highly critical government report released last month blasts BP for egregious safety lapses and reckless cost-cutting efforts - opening the door to hefty punitive-damage awards and greatly increasing the likelihood that criminal charges will be brought. At the same time, two academic studies signaled that BP's liability could be much farther-reaching than the company and its attorneys predicted. One study focuses on the spill-related developmental and reproductive problems of the Gulf's killifish while the other reveals that the oil BP sunk to the seafloor with dispersant isn't breaking down as expected (see links to my previous posts below).
Well, if the defendants thought it couldn't get any worse, they need to think again - and those who thought they were immune from prosecution should go ahead and lawyer up if they haven't already.
You see, up to this point, the bulk of the liability had been tied to the 200 million gallons of oil that BP's Macondo Well spewed into the Gulf. But now, according to an Oct. 3 report from Courthouse News, a federal judge has ruled that the "companies involved in the use of the dispersant Corexit during the
Deepwater Horizon
spill last year cannot get immunity from what may be hundreds of thousands of personal injury claims."