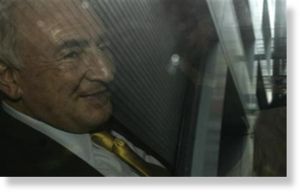 Regardless of the outcome of the sexual assault charges against former IMF chief Dominique Strauss-Kahn, the case could discourage victims from coming forward, women's rights advocates say.
The high-profile case shows why sexual assault is one of the most underreported crimes in the United States: the accuser has been called a prostitute in print, intimate details of her past exposed to the world, and her credibility questioned by prosecutors trying to make a case against Strauss-Kahn.
"Unquestionably, it has had a chilling effect on the public consciousness and women in coming forward," said Sonia Ossorio, executive director of the National Organization for Women in New York City.
"It reinforces what we already know, that the majority of women do not report rapes because the spotlight will be on their personal history and their credibility will be questioned," she said.
Forty-five percent of sexual assaults in the United States go unreported, according to the Bureau of Justice Statistics 2009 National Crime Victimization Study -- down from 60 percent in 2007.
A New York judge freed Strauss-Kahn from house arrest last week after prosecutors revealed that his accuser, a 32-year-old hotel maid from Guinea, had lied about her background, undermining her credibility as a witness.