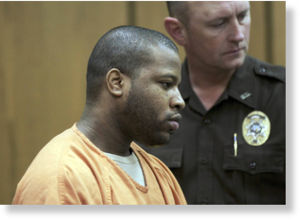 In a hearing Friday, prosecutors announced plans to seek the death penalty and revealed details of their case against Peter Lucas Moses Jr., accused of murdering a 4-year-old boy and a 28-year-old woman because of his beliefs and association with a radical religious sect.
Moses, 27, faces two counts of first-degree murder in the deaths of Jadon Higganbothan, 4, and Antoinetta Yvonne McKoy, 28.
Prosecutors laid out their theories in broad brushstrokes for Judge Jim Hardin on Friday in Durham County Superior Court as part of a legal proceeding in capital punishment cases. The theories are built largely on the accounts of one person who lived in the house, an informant who began talking with police months ago.
District Attorney Tracey Cline summarized bizarre scenarios that investigators had pieced together for what happened to Jadon and McKoy, who both lived at 2109 Pear Tree Lane, where the defendant had patched together a sordid family.
Moses subscribed to the tenets of the Black Hebrews, a radical sect that believes a race war is coming that will leave blacks dominant and supreme, according to court documents.
Women who lived with the defendant and counted themselves as his wives or common-law wives - women who also face criminal charges in the case - referred to Moses as "Lord," prosecutors contend.