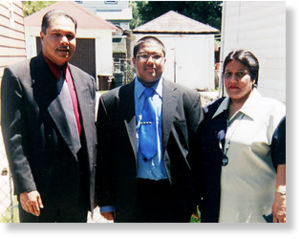 Cops are investigating whether a 23-year-old Queens man played a role in the execution-style slayings of his parents, police sources said.
A cloud of suspicion surrounds Shane Jaggarnauth, who was also shot during what he described as an early morning ambush in Springfield Gardens.
Police said a gunman blasted Jaggarnauth in the shoulder about 4 a.m., piercing the silence of a normally quiet neighborhood. The shooter went upstairs and found a panicked couple in their bedroom before blasting each of them at least once in the head, a police source said.
Sugrim (Jay) Jaggarnauth, 64, and his wife, Rosie, 56, died at the scene on Grayson St. Before the wife died, she made a chilling call to 911, telling a dispatcher she was shot.
"Help," she whispered into the phone, according to a high-ranking police source. "Hurry."