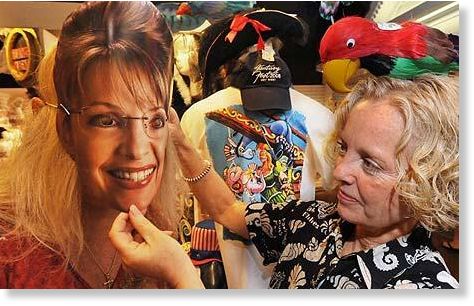 There's little festive spirit in America this Halloween. Fox News offers an indictment of the general misery of recession-era USA with this dark story: "A girl was found hanging by a noose inside a haunted house attraction Thursday night. Customers may have even walked past her thinking she was a scary prop." Luckily, the girl survived, but this was just one of the many signs from the gods that all is not well in the beloved USA. Here are five more:
Liberals hijack the festival to make a politically correct point.


A student organisation in Ohio is running a poster campaign against "racist" Halloween costumes. The posters feature students of different ethnicities holding up photos of someone dressed as a stereotype (geisha girl, Arab terrorist etc), each beneath the tagline "We're a culture, not a costume." It was a cheap shot in the culture war, earning itself a volley of wonderful online pastiches. The best by far is of an offended Dracula holding up a photo of a guy in a vampire costume, again beneath the words "We're a culture, not a costume". Hey, his great grandfather didn't schlep all the way here from Romania to be a running gag at frat parties.

Halloween becomes a sting operation to entrap paedophiles.


The police are on alert in Fox Valley, Wisconsin for any signs of trouble from the burgeoning population of registered sex offenders. The cops will be conducting door-to-door inspections to make sure that they aren't talking to kids, handing out candy or "turning on the porch light". Ninety-one offenders are standing up for the spirit of the season and defying the order. A local defence attorney reasoned, "The fact of the matter is that well over 90 per cent of child sex offences occur when there is a prior relationship between the child and the offender ... The biggest danger you have is not from strangers, but from family". That cheering thought was the top story of the news-starved local paper, The Appleton Post-Crescent.