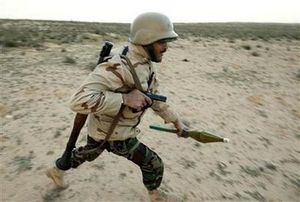 Libyan rebels pushed west on Thursday, extending their grip on a key coast road as Muammar Gaddafi received a warning he would be held to account at The Hague for suspected crimes by his security forces.
Venezuela said the Libyan leader had agreed to its proposal for an international commission to negotiate an end to the turmoil in the world's 12th largest oil exporting nation.
But Gaddafi's son Saif al Islam said there was no need for any foreign mediation in the crisis, a leader of the uprising rejected talks with the veteran leader, and the Arab League said cautiously the plan was "under consideration."
In Paris, French Foreign Minister Alain Juppe said France and Britain would support the idea of setting up a no-fly zone over Libya if Gaddafi's forces continued to attack civilians.