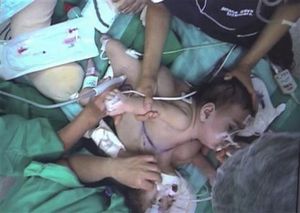 Santiago, Chile - Doctors successfully separated conjoined twin girls early Wednesday after a marathon 18-hour surgery widely followed in the South American country on television and the Internet.
The 10-month-old twins Maria Paz and Maria Jose are in stable condition even after losing a lot of blood and they are resting in the intensive care unit at Luis Calvo Mackenna Hospital, chief surgeon Francisco Ossandon said.
Parents Jessica Navarrete and Roberto Paredes kept an anxious vigil at the hospital in Santiago as doctors separated the twins at the thorax, stomach and pelvis. It was the seventh and most complex operation yet for the twins.
"Both were successfully separated," Ossandon said at a news conference. "We had a number of difficulties during the surgery, there were some surprises, but we were able to fix, solve the problems."