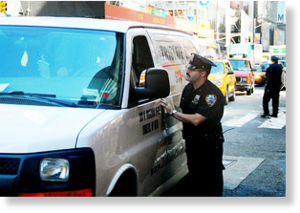 NYPD officials fear would-be terrorists plotting a car bomb attack on the anniversary of 9/11 could be masquerading as construction workers to get close to today's memorial service.
Cops are searching for three stolen vehicles - two belonging to Tully Construction in Queens, a company doing roadwork on West St. near 1 World Trade Center, a police spokesman said.
On Sept. 1, a dark green Chevy van with a 2-inch horizontal stripe and a yellow turret light was boosted from a construction site at the westbound onramp of the Long Island Expressway. Police said the driver left the vehicle temporarily to talk to coworkers when it was stolen.
The next night at 9:30, three men broke into a construction locker at a Tully storage facility on Ditmars Blvd. and loaded roughly $70,000 in tools and construction equipment into the stolen van and another vehicle, NYPD Deputy Commissioner Paul Browne said.
He cautioned that there were no concrete ties to the reported anniversary attack plot.