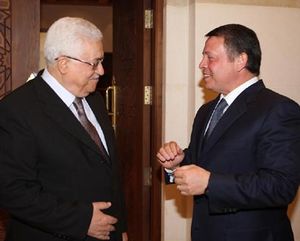 King says 'Jordan and the future Palestine are stronger than Israel is today. It is the Israeli who is scared today'
The king described a recent conversation he held in the US with "one of the Israeli intellectuals" who commented on events in the Arab world, arguing that they were good for Israel. "I replied and said that it was the opposite and that Israel's situation today is more difficult than ever before."
Abdullah reiterated that his country would not serve as an "alternative homeland to the Palestinians."
According to the Jordanian leader, "Jordan is Jordan and Palestine is Palestine. We support all Palestinian rights and the establishment of an independent Palestinian state - our policy hasn't changed. The subject of an alternative homeland must not be part of the discussion. It is unacceptable."