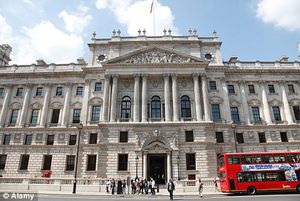 - Value of the Pound could surge if euro fails
- Britain's borders could be temporarily sealed against economic refugees
- Many experts believe the 17-member currency cannot survive the coming year
- Rich individuals from Greece and Portugal are already moving money into UK
- Italian bond auctions ease fears about eurozone debt crisis and help FTSE 100 to make cautious gains
Ministers are considering draconian plans to prevent a flood of money and people heading to Britain from Europe if the ailing single currency collapses.
Experts fear that the collapse of the euro would lead to the widespread movement of both people and money - with potentially damaging consequences for Britain if left unchecked.
The Treasury has drawn up contingency plans to prevent investors shifting huge sums of cash from the Eurozone to Britain - amid fears it could lead to a surge in the value of the Pound.