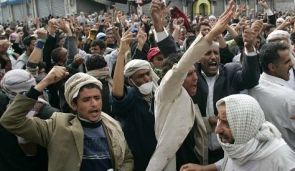 Doctor says protesters attacked by security forces and plainclothes police using tear gas, rubber bullets, live fire and bats.
One person was killed and 200 wounded when Yemen security forces attacked protesters in the Red Sea city of Hudaida with live and rubber bullets, tear gas, clubs and daggers, a doctor who treated victims said.
The impoverished Arabian Peninsula state has been hit by weeks of protests against the 32-year rule of President Ali Abdullah Saleh. Both pro and anti-government factions appear to have increasingly resorted to violence in the struggle.
yemen