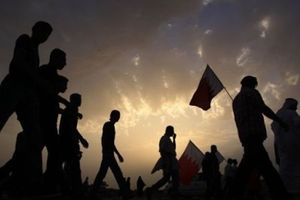 Bahraini security forces have fired tear gas at anti-government protesters in the capital Manama as demonstrators vow to continue their protest, witnesses say.
Riot police opened fire on hundreds of demonstrators that tried to reach Bahrain's Financial Harbor, a key business district, Press TV correspondent reported.
Bahrainis have been staging protests since mid-February, demanding the resignation of King Hamad bin Isa Al Khalifa and constitutional reforms to the Sunni-led government.
Inspired by revolutions that toppled the despotic regimes in Egypt and Tunisia, Bahraini protesters also demand free and fair elections as well as the release of political prisoners.
Trying to prevent the protesters from staging rallies near the major business district, Bahraini security forces blocked a key roadway on Sunday.
Police also clashed with protesters and took measures to push them back towards Pearl Square roundabout.
"Riot police once again are using excessive force against protesters," said the Press TV correspondent. "The protesters closed down one of the highways in response to the attack on peaceful demonstrations on Friday."