Long lines and mob scenes ensue at stores amid a clamor for iodized salt fueled by rumors of a radioactive cloud from Japan's quake-damaged nuclear plant and the belief that the salt would protect against radiation poisoning.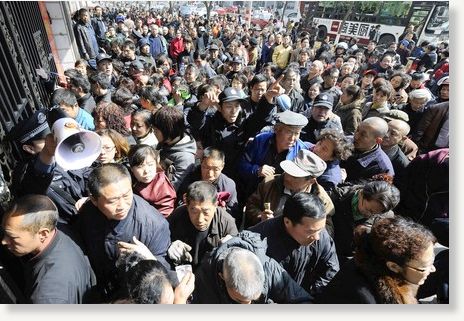 China tried to quell panic buying of iodized salt Thursday after grocery stores across the country were emptied of the seasoning by hordes of people hoping to ward off radiation poisoning after the nuclear accidents in Japan.
The clamor for salt reportedly started after rumors spread, possibly by cellphone text messaging, that China would be hit by a radioactive cloud from Japan's Fukushima No. 1 (Daiichi) nuclear plant, which had been badly damaged during last week's earthquake and tsunami.
People were under the false impression that consuming enough iodized salt would protect against radiation and that China's sea salt supplies would be contaminated as a result of the unfolding Japanese crisis.
That sparked long lines and mob scenes in major cities such as Shanghai, Beijing and Hangzhou.
In a scene repeated across the country, online video from the eastern city of Wenzhou showed panicked shoppers filling their baskets with tubs of salt and street vendors complaining about being cleaned out.
"I hear there was also a huge earthquake in Taiwan and it will hurt salt supply," a woman was heard saying. There was no earthquake in Taiwan.