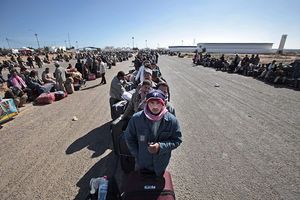 Italy faced criticism in the European Union on Thursday (24 February) for raising the alarm about a potential wave of refugees from Libya, with several governments saying Rome's calls for help in dealing with migrants were exaggerated.
EU justice ministers were meeting in Brussels yesterday to weigh contingency plans if escalating violence in Libya triggers massive outflows of people.
But international experts say out of at least 30,000, mainly Tunisians and Egyptians, who have fled turmoil so far, none were headed for Europe.
"For the moment, we had not seen any people coming to Europe from Libya," said Cecilia Malmström, the EU commissioner responsible for home affairs.
"What we see is that people from Libya have started to go to Tunisia and to Egypt, and it is of course important that we can assist Tunisia and Egypt to address this humanitarian situation and to help people who come there," she added.