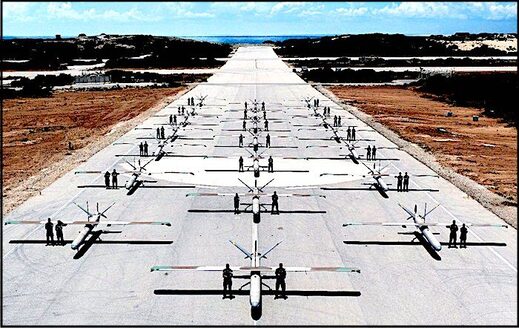 The pilots never imagined they would have to carry out air strikes on their own territory, and on such an 'undreamt-of scale'.
Israel's fleet of Hermes 450 "Zik" armed drones carried out attacks on Israeli military bases, settlements, and civilians during the Hamas attack on 7 October,
according to a 14 November
report
from
Mishpacha Magazine
.
Previous reports have emerged showing that
Israeli forces used
tanks
to kill Israeli civilians barricaded inside homes with their Hamas captors,
and
Apache
helicopters
to fire on Hamas fighters and their Israeli captives
while returning back to Gaza.
During the fighting, some
1,200 Israelis were killed,
with some killed by Hamas, and others by Israeli forces. Hamas took some 240 Israeli soldiers, civilians, and foreign workers captive.
Israel's armed drone program was
initiated
in 1993 by Ehud Barak, then Chief of Staff of the army under Prime Minister Yitzak Rabin. Prime Minister Ariel Sharon later approved the use of offensive drones for assassinations in the Gaza Strip. The best known of these attacks was the killing of paraplegic Hamas founder Ahmed Yassin in 2004.
Since that time, armed drones have slowly been
replacing
Israel's previous use of warplanes, including US-made F-16s.