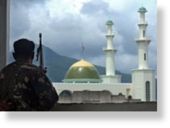 A counter-terrorism consultant told a meeting of law enforcement officials that the way to combat militant Muslims is to "kill them ... including the children," says a news report.
Walid Shoebat, a self-described "former PLO terrorist" who "now speaks out for USA and Israel," reportedly made the comment at a speech during a conference of the International Counter-Terrorism Officers Association in Las Vegas this past October,
according to
the Huffington Post's Chip Berlet.
The comment highlights growing concerns among human rights advocates that US law enforcement is turning to extremists for training in the fight against terrorism. It also highlights concerns among senior counter-terrorism officials that standards for counter-terror training are inappropriate, and possibly harming national security.
According to Berlet's anonymous source, Shoebat's comments got a warm reception from at least some of the people attending the conference:
Our source had turned around after Shoebat's speech and asked the woman in the chair behind them at the conference what she thought was the solution offered by Shoebat.

"Kill them ... including the children ... you heard him," was the full response.

Shoebat's Las Vegas speech was described by our source as "frightening."