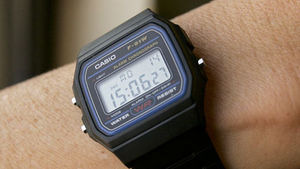 It's a simple, water-resistant digital watch that retails for about $11. But beware: It could sell you out as al-Qaida.
A new batch of WikiLeaks files from Guantanamo Bay reveals a secret checklist U.S. investigators used to figure out whether detainees were really al-Qaida members. Among the criteria was the kind of wristwatch they were wearing.
The U.S. military lists the Casio F-91W model -- a cheap plastic watch available all over the world -- as a "suspicious item" on par with military transceivers, satellite phones, huge wads of cash and secret notes from al-Qaida facilitators.
According to a confidential document distributed to American interrogators at the Guantanamo Bay prison, the Casio model "is an indicator of al-Qaida training in the manufacture of improved explosive devices (IEDs)."
"The Casio was known to be given to the students at al-Qaida bomb-making training courses in Afghanistan, at which the students received instruction in the preparation of timing devices using the watch," the document states.
One-third of detainees captured while wearing the Casio watch "have known connections to explosives," it said.