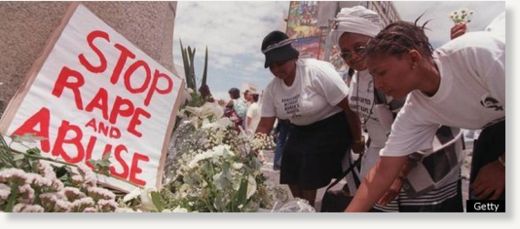 As April, which has been designated Sexual Assault Awareness month, winds down, numerous women's rights advocates are calling attention to the FBI's restrictive definition of rape -- a definition that they say inadequately encompasses all forms of the crime.
When Representative Chris Smith (R-NJ) incited outrage by proposing to
confine the definition of rape
to instances of "forcible rape" in H.R. 3, the "No Taxpayer Funding for Abortion" Act, it was a little-known fact FBI's Uniform Crime Reporting Program (UCR) had been using this classification since 1929 -- making the definition, as Ms. Magazine points out,
almost as old as sliced bread.
The UCR's
summary reporting system
, which functions as the rubric for measuring national crime data,
defines rape
as "the carnal knowledge of a female, forcibly and against her will."
It continues: "Attempts or assaults to commit rape by force or threat of force are also included; however, statutory rape (without force) and other sex offenses are excluded."
While organizations including the
Feminist Majority Foundation
and the
Women's Law Project
in Philadelphia have been petitioning to change this outdated definition --
which excludes incidences of oral or anal rape, rape with a foreign object, and discounts all rapes of men
-- for over a decade, even testifying about the necessity of broadening the definition's scope to a
Senate subcommittee last September
, they have reignited their campaign after seeing the reaction to H.R. 3.