Restaurant managers say they plan to hire more in the future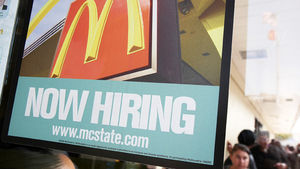 A McJob looked mighty appealing to tens of thousands of people in the Chicago area.
More than 75,000 job-seekers applied for 2,000 area positions with McDonald's during the fast food king's first-ever "National Hiring Day" on April 19.
Applicants packed franchises in Illinois, Southern Wisconsin and Northwest Indiana. McDonald's filled all 2,000 jobs, including more than 1,000 posts in the Chicago area alone, a McDonald's spokesperson said.
Oak Brook-based McDonald Corp. offered 50,000 positions nationwide as part of the April 19 job fair.
The openings were for full- and part-time restaurant crew and management positions, which translate to about three or four new hires per store. Applicants were asked to apply at franchises or online.