Emergency crews dump seawater on spent fuel pool, reducing temperatures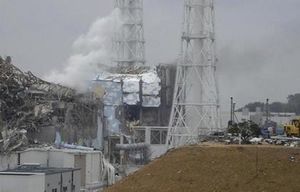 Fukushima, Japan - Workers reconnected power lines to all six reactor units at Japan's radiation-leaking nuclear plant Tuesday, its operator said, marking a significant step in bringing the overheated complex under control.
In making an announcement after days of anxious waiting by the public, Tokyo Electric Power Co. cautioned that much work needed to be done before the electricity can be turned on. Workers are checking all additional equipment for damage to make sure cooling systems can be safely operated, Tokyo Electric said.
In another advance, emergency crews dumped 18 tons of seawater into nearly boiling storage pool holding spent nuclear fuel, cooling it to 105 degrees Fahrenheit, Japan's nuclear safety agency said. Steam, possibly carrying radioactive elements, had been rising for two days, and the move lessens the chances that more radiation will seep into the air.
The power lines and the sustained dousing together mean authorities are closer to bringing the Fukushima Dai-ichi nuclear complex, with its six reactors and spent fuel pools, under control. Officials and experts, however, have said days, even weeks would be needed to replace damaged equipment and vent any volatile gas to make sure electricity does not spark an explosion.