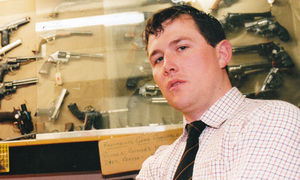 US court papers allege that three directors of UK firms tried to break embargo by selling thousands of Chinese assault rifle parts
The shadowy world of Britain's arms dealers has been thrust into the spotlight after the directors of two companies based in York and Kent were charged with conspiring to illegally export to the US hundreds of thousands of rounds of ammunition for AK-47 assault rifles in breach of an American embargo.
Court documents filed in the US claim that British businessman Gary Hyde and his associate Karl Kleber fraudulently imported more than 5,000 Chinese-produced AK-47 drum magazines into the US from the UK via Germany.
The alleged deal backfired, however, after US agents received a tip-off that the drums, each of which holds 75 rounds, had come from China, the subject of a US import ban on weapons.
The complex nature of the alleged deal, made via a multitude of companies based in several countries, provides a rare insight into the byzantine world of international arms brokers, which critics maintain is insufficiently monitored by western governments. "It's a deeply alarming case that demonstrates yet again why arms brokering, small arms and ammunition trafficking must be at the heart of efforts to secure a new global arms trade treaty," said Oliver Sprague, UK arms programme director at Amnesty International.