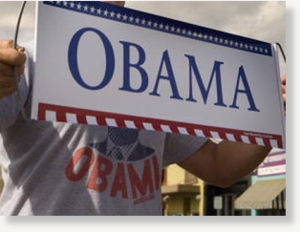 A man who set up a table with political literature and a sign opposing President Barack Obama was attacked in San Francisco's North Panhandle neighborhood, police and witnesses said Tuesday.
Initial police accounts had indicated that the man had a sign supporting Obama, but witnesses later said it was an anti-Obama sign with a Hitler mustache drawn over the president's face.
The attack happened around 11:30 a.m. Monday in the 1200 block of Fell Street, where the victim, a 29-year-old Daly City man, had set up his table, said Capt. Denis O'Leary of the SFPD's Park Station.
A man and woman approached the victim, tore the sign and shook the table, causing the political literature to fall to the ground.
The attackers also kicked the man in the hand, O'Leary said.
The SFPD captain said he did not know whether the victim was a supporter or opponent of Obama, but a witness who was in the area Monday said the victim was a supporter of Lyndon LaRouche, a left-wing political activist who opposes the president.