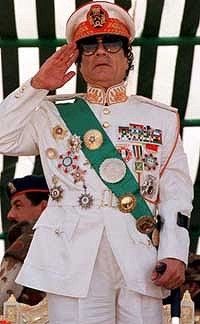 Despotic regimes are falling like dominoes across the Middle East. But Libya's Muammar Gaddafi won't give up without a fight.
Now people are dying we've got nothing else to live for,'' wrote a student blogger in Libya. ''It's like a pressure cooker. People are boiling up inside. I'm not even afraid any more. Once I wouldn't have spoken at all by phone. Now I don't care.''
It is a sentiment that encapsulates so much of the extraordinary events sweeping the Middle East. As the revolt in Libya widens, and more Libyans summon up the courage to confront their ''Great Leader'', Muammar Gaddafi has launched by far the most uncompromising response of all the Arab leaders in the region to anti-government protests.
In neighbouring Egypt and Tunisia the military proved extremely reluctant to open fire on their own citizens, a factor that made a significant contribution to the subsequent removal of the countries' leaders.