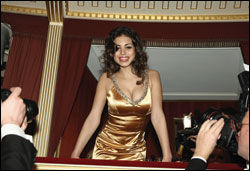 The trial of Italian prime minister and media mogul Silvio Berlusconi on charges of sex with an underage prostitute and abuse of power opened Wednesday and was rapidly adjourned as throngs of journalists and international TV crews crowded the Milan courthouse.
Neither Berlusconi nor Moroccan pole dancer Karima El Mahroug, known as Ruby, attended the first hearing of one of Italy's most anticipated courtroom events, which the judge postponed until May 31.
Prosecutors in the case, which touches tangentially on Berlusconi's Mediaset TV empire, accuse the TV-tycoon-turned-politician of paying for sex with Mahroug when she was 17.
The alleged sexual encounters supposedly took place at Berlusconi's villa at Arcore, outside Milan, during sex parties attended by dozens of women, some of whom were aspiring TV starlets, according to local reports.