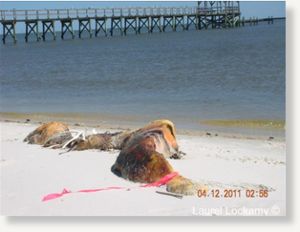 Laurel Lockamy was upset that a dolphin had been lying dead in the sand near Pass Christian, MS, for more than five days. It had been painted orange after being counted by the
Institute for Marine Mammal Studies
and tagged as counted. But it still was not moved and was decomposing in the sand.
So Laurel decided to take matters into her own hands and posted a note and a few photos of the dolphin onto the local WLOX-TV website:
Dead Dolphin on Pass Christian Beach.
this is the dead dolphin that is still out there 5 days after the marine institute for mammals came and spray painted and tagged it in orange..it stinks..it is rotting and it is so wrong that this beautiful creature is rotting on the beach after 5 days..go look its still out there on the beach in Pass Christian where people are still swimming in this bad water..Someone Please Help This Dolphin!!