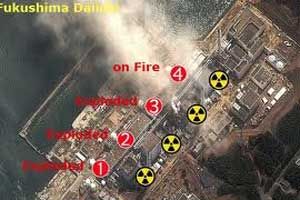 Scrambling hard to tackle its worst atomic crisis, Japan said on Wednesday it will scrap four stricken reactors at the quake-hit Fukushima nuclear facility,
as radiation seeping into seawater reached its highest level yet
and the President of the troubled plant's operator hospitalised.
Tokyo Electric Power Company (TEPCO), the plant's operator, said that it will decommission the four reactors at the plant, more than two weeks after the monster magnitude-9 quake and tsunami struck Japan's northeast leaving nearly 30,000 people dead or unaccounted for.
"We have no choice but to scrap reactors 1 to 4 if we look at their conditions objectively," Tsunehisa Katsumata, the company's Chairman, said at a press conference.