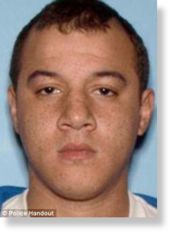 A 20-year-old maintenance worker who this week pleaded guilty to molesting and killing a 7-year-old girl was found dead of an apparent suicide in his prison cell Thursday, according to the Georgia Department of Corrections.
Ryan Brunn was found unresponsive at 4:15 p.m. at the state prison in Jackson, said spokeswoman Kristen Stancil. Brunn was taken to a hospital, where he was pronounced dead at 5:37 p.m., Stancil said in an email to The Associated Press.
Brunn pleaded guilty on Tuesday to killing Jorelys Rivera on Dec. 2. Her body was found in a trash compactor at the Canton apartment complex where she lived and he worked. At the hearing, Brunn explained his actions in chilling detail before apologizing to Rivera's family. A judge then sentenced him to life in prison without parole.