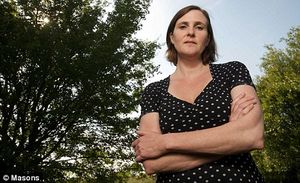 When Lucy Wadham married her charming French lover, she discovered more about the Gallic way of living - and loving - than she had bargained for.

Lucy, 44, a writer, was about to step onto a sexual merry-go-round where casual adultery was the norm.

Here Lucy, who now lives with her English second husband and four children, tells Tessa Cunningham why the French are so different from us.
The first time I realised just how differently the French view sex was at my wedding. I married Laurent Lemoine at his parents' beautiful house in Normandy. Set in acres of lush farmland, it was the perfect bucolic setting.
As I walked down the aisle of the local church, I had never felt happier or more confident - until I caught sight of the guests. Dotted about the church were my husband's ex-girlfriends. Elegant, exquisitely dressed and immaculately groomed, they radiated a mixture of hauteur and sexual confidence.