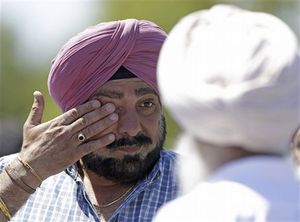 Oak Creek - At least six people were killed Sunday when a gunman opened fire at a Sikh temple near Milwaukee, authorities said. The suspected shooter was later killed in exchange of gunfire with police.
Police were called to the Sikh Temple of Wisconsin in the suburb of Oak Creek on Sunday morning, when witnesses said several dozen people were gathering for a service.
Greenfield Police Chief Bradley Wentlandt said the first officer to arrive encountered a man police believe was the shooter. The two exchanged gunfire, and the suspect was killed, he said.