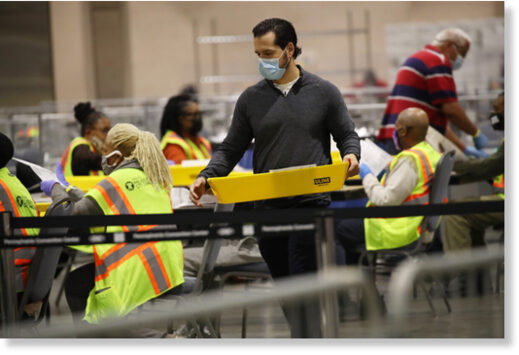 The judge who ordered
Pennsylvania
to not certify the results of the 2020
election
wrote in an opinion on Friday that the Republicans who filed the related
lawsuit
will likely win the case.
Pennsylvania Commonwealth Judge Patricia McCullough made the assessment as part of an opinion explaining her rationale for blocking Pennsylvania's election certification.
A group of Republican lawmakers and candidates sued the Keystone State earlier this week,
arguing that the state legislature's mail-in voting law — Act 77 — violated the commonwealth's constitution
.
"Petitioners appear to have established a likelihood to succeed on the merits because petitioners have asserted the Constitution does not provide a mechanism for the legislature to allow for expansion of absentee voting without a constitutional amendment,"
McCullough wrote.
When ruling on an emergency injunction, judges have to consider whether the party which requested the injunction is likely to win the case or "succeed on the merits." McCullough opined that the "petitioners appear to have a viable claim that the mail-in ballot procedures set forth in Act 77 contravene" the plain language of the provision of the Pennsylvania Constitution which deals with absentee voting.