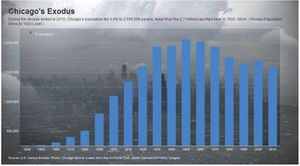 A larger-than-expected exodus over the past 10 years reduced the population of Chicago to a level not seen in nearly a century.
The U.S. Census Bureau reported Tuesday that during the decade ended in 2010, Chicago's population fell 6.9% to 2,695,598 people, fewer than the 2.7 million reported back in 1920.
After peaking at 3.62 million people in 1950, Chicago underwent a half century of decline that ended only when the 1990s boom years produced a small gain in the 2000 count. At that time, the city loudly celebrated its comeback.
But the recent recession accelerated a migration both to the metropolitan area's farthest suburbs and to the Southern U.S. Chicago nonetheless is expected to remain the nation's third-largest city, behind New York and Los Angeles and just ahead of Houston, for which final census numbers aren't in yet.