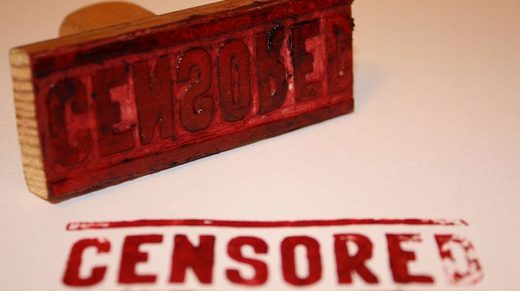 No democracy can survive censorship. If there is censorship, then each individual cannot make his/her own decisions (voting decisions or otherwise) on the basis of truth but only on the basis of whatever passes through the censor's filter, which is always whatever supports the censoring regime and implants it evermore deeply into the public's mind —
regardless
of its actual truthfulness.
The public does have a mind, as a collective constituting the majority of the residents in the given land, which majority rules any democratic government. If the government doesn't really represent the majority, it's no democracy, at all, but instead represents other individuals, the real rulers, who might be hidden.
Consequently,
if
a democracy exists but a censor somehow becomes allowed, and emerges into existence in a given land, then democracy will inevitably be snuffed-out there, and dictatorship will inevitably be the result — merely because censorship has been applied there, which blocks some essential truths (truths that the rulers don't want the public to know) from reaching the public.
Nothing is as toxic to democracy as is censorship. Censorship prevents democracy.
If a dictatorship already exists in a given land, then it does so
by means of censorship
, because
only
by that means will the public be willing to pay taxes to the regime and to go to war for it and to kill and die for it. Without censorship, none of that could happen,
except
in an authentic democracy. An authentic democracy has
no
censorship.