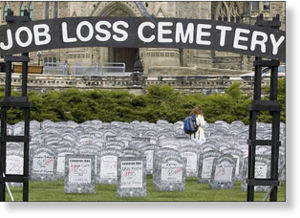 Now that a few Democrats and the remnants of the AFL-CIO are waking up to the destructive impact of jobs offshoring on the US economy and millions of American lives, globalism's advocates have resurrected Dartmouth economist Matthew Slaughter's discredited finding of several years ago that jobs off-shoring by US corporations increases employment and wages in the US.
At the time I exposed Slaughter's mistakes, but economists dependent on corporate largess understood that it was more profitable to drink Slaughter's kool-aid than to tell the truth. Recently the US Chamber of Commerce rolled out Slaughter's false argument as a weapon against House Democrats Sandy Levin and Tim Ryan, and the
Wall Street Journal
had Bill Clinton's Defense Secretary, William S. Cohen, regurgitate Slaughter's claim on its op-ed page on October 12.
I sent a letter to the
Wall Street Journal
, but the editors were not interested in what a former associate editor and columnist for the paper and President Reagan's Assistant Secretary of the Treasury for Economic Policy had to say. The facade of lies has to be maintained at all costs. There can be no questioning that globalism is good for us.