A passenger plane carrying 27 people plunged into the ocean on Saturday as it approached an airport in bad weather in Indonesia's eastern province of West Papua, killing at least 17.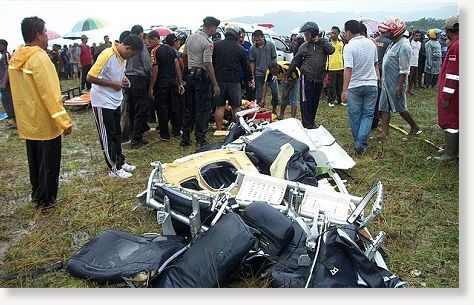 Herry Bakti Singayuda, director general of Indonesian air transportation, said the Chinese-made Xian MA60 twin turboprop plane went down just before landing in Kaimana.
The flight, operated by state-owned Merpati Nusantara Airlines, originated in Sorong, another town in the province.
He said rescuers had recovered 17 bodies from the wreckage of the aircraft, which crashed into Kaimana Bay about 500 yards from the end of the runway. Searchers were hampered by heavy rain.
"Technically there was no problem with the plane," Mr Singayuda said.
He said the plane had only 615 flight hours and had been purchased in October.