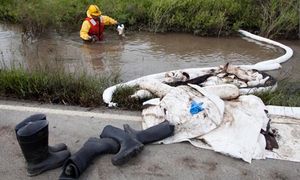 Oil from a ruptured
ExxonMobil pipeline on the famed Yellowstone
spread at least 15 miles beyond the initial leak - further than the oil company's original estimates.
Clean-up crews have yet to reach the break in the 12-inch pipeline because of historic flooding on the river, which is projected to peak on Tuesday.
Montana's governor, Brian Schweitzer, who was due to visit areas near the spill site on Tuesday, has called for a safety inspection of all pipelines crossing the state and a review of the company's emergency response plans.