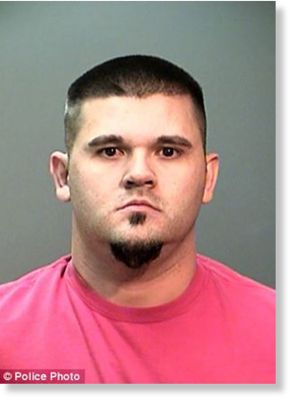 Benjamin James George, 30, of Medford, Oregon sentenced
Admitted choking and body slamming toddler in 2010
Defence argued mental impairment; judge not swayed
A 230-pound former Marine has been sentenced to life in prison for killing his girlfriend's 2-year-old daughter in a brutal wrestling match, in which he threw the child across a bed and into a wall.
Benjamin James George, 30, of Medford, Oregon was sentenced Thursday after he was convicted of murder by abuse in the death of Kacy Sue Lunsford, the Mail Tribune reported.
The girl died at a Portland hospital in June 2010, five days after the assault.
Prosecutor David Hoppe said previous episodes of abuse culminated in one night of 'ultimate wrestling moves' that left the 30-pound child with collapsed lungs, a lacerated liver, internal bleeding and massive head wounds.
Kacy's family cried quietly during the hearing, but they made no statement in court, and left the building immediately.
Mr Hoppe said: 'Hopefully the verdicts will bring a small measure of solace to Kacy's family'.
Jackson County Circuit Judge Lorenzo Mejia also sentenced George to 7 1/2 years for assault, to run concurrently with the life sentence with no chance of parole for 25 years.
George showed no reaction and expressed no remorse during his sentencing.
Murder by abuse applies when a person, recklessly or with extreme indifference to the value of human life, causes the death of a child younger than 14 through a pattern of abuse, torture or neglect.