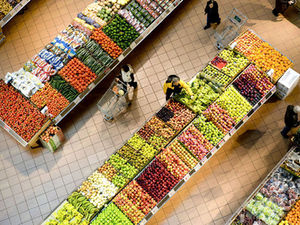 But competition among food retailers could provide some relief in the near term
With several forecasts predicting food prices increasing anywhere from 1.5 per cent to 3.5 per cent in 2013, consumers will have to rethink how they will spend their hard-earned discretionary income, writes University of Guelph professor Sylvain Charlebois. News services file photo
Last year, Canadian consumers enjoyed modest increases in food prices. In fact, not only did food prices barely increase, but prices of fruits and vegetables decreased by more than eight per cent.
Unfortunately, 2013 will be a different story. Several forecasts predict food prices will go up anywhere from 1.5 per cent to 3.5 per cent, likely exceeding our national inflation rate.
In other words, consumers will have to rethink how they will spend their hard-earned discretionary income. Indeed, meat and poultry lovers will be especially hard hit as prices for meats will likely increase by more than 4.5 per cent.