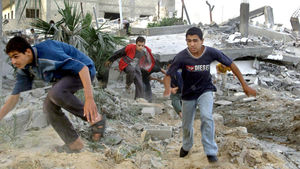 The killing of two Palestinian teenagers by Israeli military forces on May 15 during a demonstration in the occupied West Bank might be a war crime, according to Human Rights Watch.
Muhammad Abu Thahr, 16, and Nadim Nuwara, 17, were both
shot dead
by Israeli troops as the pair protested the ongoing occupation of Palestinian lands. Video footage, photographs, witness statements, and medical records indicate that Israeli military forces used live ammunition against the boys and 15-year-old Mohammed Azza, who was seriously wounded in the incident, Human Rights Watch said in a
report
, entitled
'Killing of Children, Apparent War Crime,'
released Monday.
The Israeli military said it
"did not use live fire"
during the demonstration, only rubber bullets and teargas, adding that it did not have an immediate reaction to the report.
Footage retrieved from security cameras on Palestinian properties near the scene of the alleged shootings shows the two teenagers hitting the ground at separate times,
apparently shot despite posing no immediate threat to Israel troops.